Recently, there is a new type of traffic light on the market -- the reflector light, also known as the Plus traffic light at present, this traffic light refers to the traffic light pole is equipped with a light belt, can display red or green, far away, drivers can also see clearly, pedestrians can also see clearly. Even the friends who ride electric bikes can see it clearly, and the mobile phone users also find it very attractive, and they will look at the light belt more and less, which improves people's sense of experience and has a great effect on people's happiness index.
 A new type of traffic light - Plus version of LED light with signal light coming, with the overall beautiful, atmosphere, eye-catching characteristics.
This time, Xintong Group brings the first batch of new products -- enhanced new LED light belt signal light. It adopts high-brightness LED light belt and is installed on the transverse arm and vertical pole of the signal light pole. The two LED light poles installed separately change synchronously with the traffic lights going straight. When the signal light changes to yellow light, the LED light pole signal light synchronously displays yellow; When the signal light changes to green, the LED pole signal light synchronously displays green.
Greatly increased the visibility of the intersection signal light range, to a large extent to avoid the front of the block, after the car driver can not see the signal light situation, as the signal light strengthened version. Effectively avoid unnecessary traffic accidents, safe travel, safe home!
 LED lights with signal lights also have many advantages:
1. The product can automatically detect the traffic lights and realize the countdown of 9 seconds in descending mode following the whole course or the rear course of the traffic lights (to achieve this function, a control box needs to be installed in each direction).
2. The main body of the light box adopts aluminum profile, integrated extrusion molding, high strength, light weight, corrosion resistance, rust resistance.
3 Lamp shade using PC endurance plate (polycarbonate), strong light transmittance, added UV material, strong ultraviolet resistance.
4. The light source uses the same LED light beads as the conventional traffic lights to keep the color consistency with the light source.
6. The product is divided into one meter long strip, which can be spliced freely according to the actual length of the signal light pole on site.
7. The back of the product is designed with the connection position of stainless steel cable ties. It is simple and convenient to fix the product on the rod directly with the stainless steel cable ties on site.
8. The product is easy to install and does not need additional external power supply. It can be directly connected to the wiring seat of the original traffic light, which is convenient and ensures the synchronous display of the traffic light.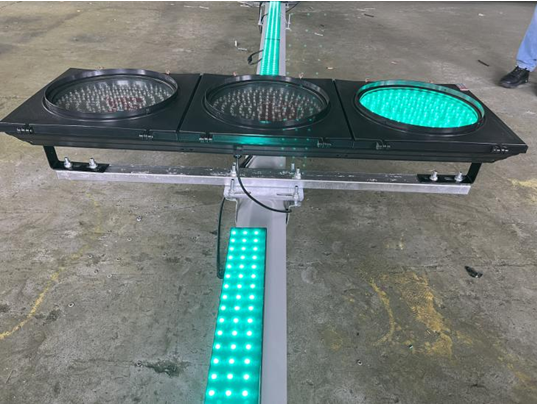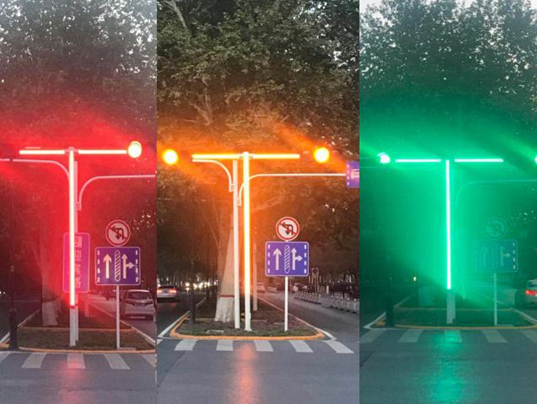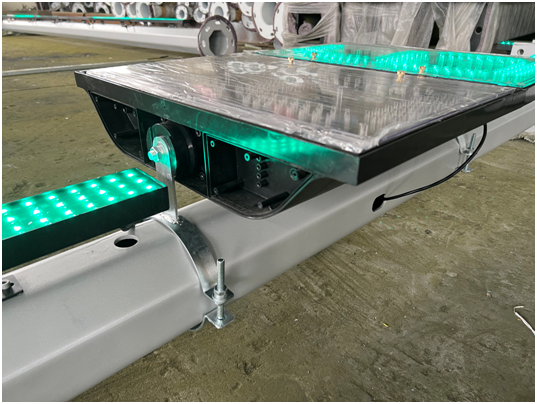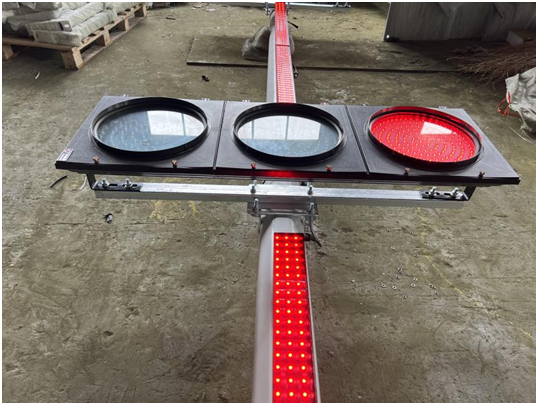 ---
Post time: Nov-25-2022